Welcome to Pet Portraits NW



We are so excited to photograph your hound(s) for the GPA-NW 2024 calendar!
Your portrait session is a custom experience and we want to make sure that the results are beautiful portraits that you will cherish for a lifetime.
Preparing your dog for their session:

Please let us know ahead of time if your dog has any anxieties, special needs, or allergies. We want the session to go as smoothly as possible. It's important that your dog will feel comfortable in the studio.

Take some time to clean and groom your dog so they look nice and presentable for the portraits. Give them a good brushing before the session so their coat looks clean and smooth. Please make sure your dogs nails are trimmed. The studio has wood floors which can be hard from some dogs to walk on. (Our greyhound refuses to walk on shiny floors.) Having trimmed nails helps them walk better on smooth surfaces. Please clean out your dog's eyes and remove any dirt/food on their face.

This is very important: To ensure your dog is calm and relaxed, please walk your dog before the session. A tired dog, is a good dog, who also poses for great portraits. Most greyhounds are calm. A little walk will still help them be calmer for their session.

Please make sure your dog goes potty before coming entering the building.

If your dog has a favorite toy or sweater, by all means, bring it. However, if you are bringing any toys, please hide them from your dog until we are ready to use them. Nothing makes a session harder than a favorite toy or treat brought out at the beginning.
During the session I'll have your dog pose a few different ways depending on their ability. Standing, sitting and lying down. If these poses are difficult for your dog, we can modify them. The primary subject in the portraits will be your dog. However, there might be moments when I ask you to step in front of the camera to help pose your pup. Most of the time, these are the favorite portraits from the session. So please dress in a way that you wouldn't mind being photographed.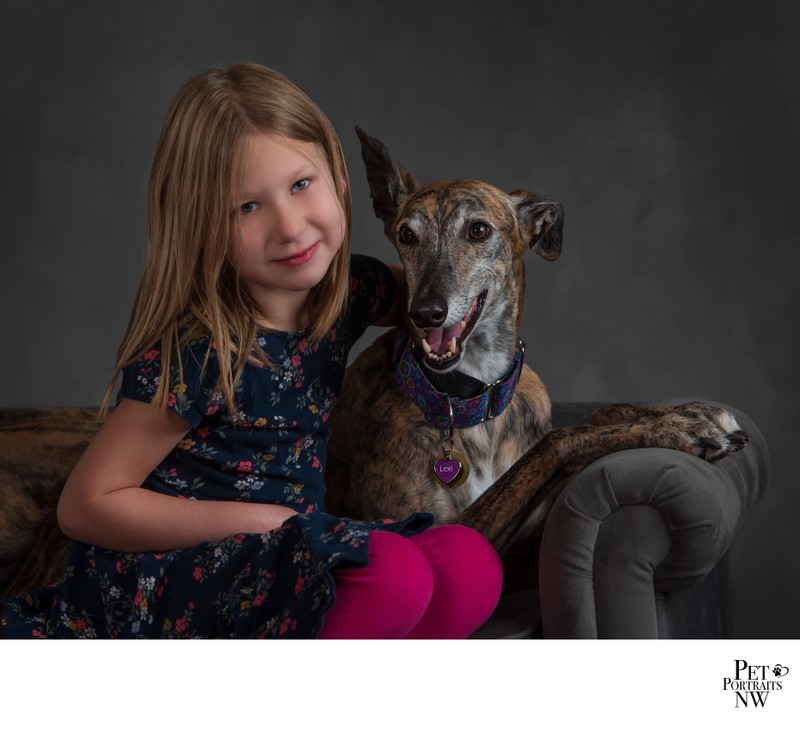 Summary of the Process
Please be on time and ready to go for the session when you arrive.
The first 5 minutes are for your hound(s) to get to know us and relax. We let them walk the studio and get used to the new sounds and smells. We also will test our lights to see how your dog reacts to strobes. Most dogs don't care about the flashing lights. If you think your dog will be scared. Please let us know. We have some tricks to get them used to the flash.
Once your dog is comfortable we will begin the session. We do a variety of poses for the dog depending on their abilities and to make sure we get the perfect shot for the calendar. If time allows, once we feel we have the perfect photo for the calendar we will photograph your dog individually. About 2 weeks after your session the studio will email you a link to a gallery where you will have the option to purchase additional portraits of your hound(s).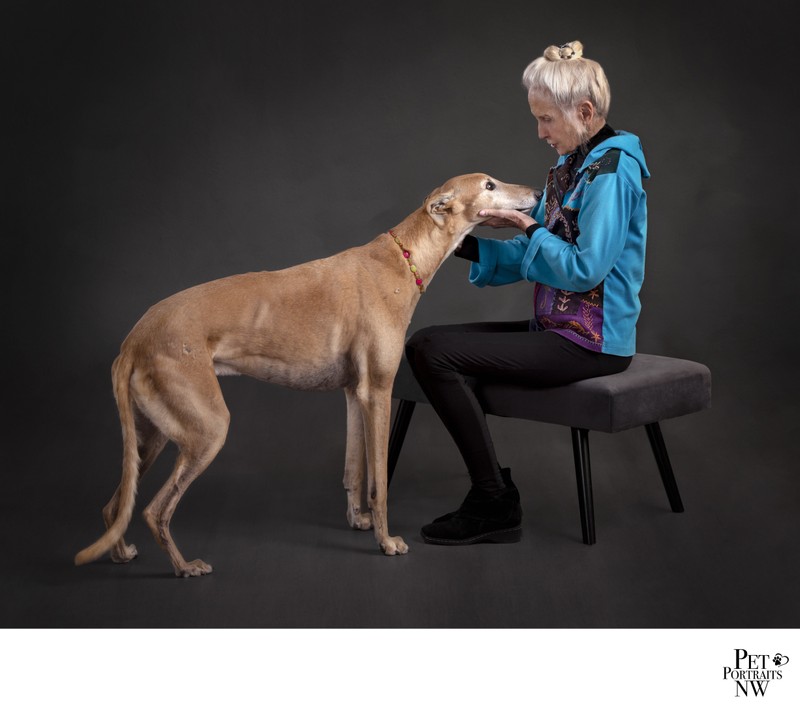 Studio Policies
We do our best to fulfill your needs and meet your expectations. To achieve this, it is important that you are aware of how our studio works and our policies.
PLEASE ARRIVE ON TIME: We have appointments throughout the day and we try very hard not to run behind on sessions
ORDERING: You will view your portraits on the same day as your portrait session. This is when you are able to design and order your artwork. Please make sure all decision makers are present since studio promotional offers are only available at this time.
STUDIO SPECIALS OR PROMOTIONS: Specials will only apply on the day of the appointment. You will have an opportunity to order your portraits immediately following your session. You can expect a short wait (about 10 minutes) after your session so we have time to prepare your slideshow. Payment is due at the ordering appointment. We also have payment plans.
DIGITAL FILES: The client may share social media files from our social media accounts. The client does not have permission to apply filters, copy, download, screenshot, or capture photographs in any other fashion. We do not sell a disk or high resolution digital images since we specialize in heirloom printed products.

CELL PHONES: The use of cell phones or other recording devices for videos or photos during your session is strictly prohibited.
PARTIAL FAMILY: We do not photograph families when a family member is not able to attend the portrait session. We are more than happy to reschedule a new appointment for you when your entire family can be together.
INVESTMENT: Pet Portraits NW specializes in creating finished printed works of art. Our artwork is finished on the highest quality art paper or on handwoven cotton canvas. Our larger pieces always come framed and/or ready to hang. All finished artwork has our full artistry. Our smaller gift prints start at $500. Framed artwork starts at $1500 and goes up from there. Our regular client will invest between $800 and $5k on their artwork, depending on size and finish. Clients that purchase larger wall pieces will receive smaller gift prints with their order as well as the corresponding digital files. All our artwork is 100% guaranteed and has been rated to last longer than 150 years.
SAFETY: We ask that pets be fully vaccinated before their session. Please do not bring any animals to the studio who show any signs of illness. We have dogs who are in hospice care come to our studio as well as young puppies. We need to make sure that all our clients and dogs are safe for their session.
CANCELLATION: If you have a sick pet or family member on the day of the session please call to reschedule. We are happy to reschedule your appointment if needed, but please let us know as soon as possible. Since we are reserving time in the studio for your pet and family. We have a firm ONE WEEK RESCHEDULING POLICY. Cancellations within one week of your appointment can be rescheduled with an additional booking deposit.
GIFT CERTIFICATES: Gift certificates are for studio portraits only and the recipient and their pet and family. Family includes parents and/or grandparents with children of any age and their pets. The certificate is only valid if used by the named recipient. Gift certificates are non transferable. Gift certificates are not redeemable for cash and my not be used to pay any outstanding order balances for the recipient or any client.
PAYMENT: Payments are due at the time of the ordering appointment and can be paid by cash, check, or credit card and are due at the time of the ordering session. Payments plans are available by arrangement.
CUSTOM ORDERS: Due to the custom nature of our work, payment for your order must be placed in full before ordering. Once an order is sent out for production, it is deemed non-refundable. Please allow 8-12 weeks for delivery of your product since each piece is an artistically handcrafted work of art.
RETOUCHING AND CONVERSIONS: Standard retouching for albums and small prints includes light blemishes at no additional cost.
COPYRIGHT: All images, original and processed, remain the sole property of Kolu Westcott. It is ILLEGAL to copy or reproduce any photographs, either physically or digitally, without Kolu Westcott's permission. Violators of this federal law will be subject to its civil and criminal penalties. The client may not download or take screenshots of any digital image produced by Kolu Westcott without express permission. The client will not receive any RAW files and may not edit the work nor remove watermarks. The client may NOT submit any photos taken by Kolu Westcott for use in contests. All images, both physical and digital, when purchased or provided to the client are for personal use only. No commercial use by the client is permitted under this contract, including but not limited to resale, promotion of personal business, or use in contests or exhibitions.
MODEL RELEASE: Clients give permission to publish and use photographs on the studio's website and for social media sharing which might be for advertising, promotion, trade, exhibition, and distribution. Clients may apply restrictions to use.
THANK YOU!